Aerospace Power and Propulsion Technologies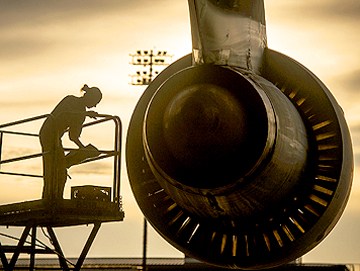 Modern aerospace military weapons platforms demand higher power levels that cannot be achieved without reliable high power/temperature performance and efficient thermal management of their subsystems. UES scientists have been instrumental in addressing these limitations by innovative applications of advanced technologies. They assist and enable the development of higher power levels for weapons on military platforms.
UES Scientists and Engineers work in tandem with USAF personnel assisting in the development of advanced aerospace components/subsystems that will find their way into a wide variety of futuristic aerospace weapons platforms. This is enabled with an astute combination of weapons systems modeling/analysis as well as experimental demonstration in an extensive array of arenas encompassing wide temperature power and thermal management technologies applied to aerospace military vehicles.
UES is also very active in the SBIR/STTR programs. An electrical power systems laboratory has been established to develop innovative Electrical Accumulator Units that are capable of Dual-Mode operation in order to source and sink power with the main electrical bus of a tactical fighter. UES is proud of our contributions to this flagship SBIR effort. The electrical bus is a life-line that provides electrical power from the generator at a steady voltage, to all the components that require electrical power in the tactical fighter.
Our core capabilities include, but are not limited to, conducting advanced analytical and experimental research in aerospace weapons power systems analysis, electrical power systems, energy conversion/storage and hypersonic structural Integrity as applied to hypersonic, strike, tactical and unmanned military aerospace weapons platforms.
Other Capabilities
Explore our other capabilities by clicking on them below. Use the arrows on either side to see more capabilities.