Biological and Nanoscale Technologies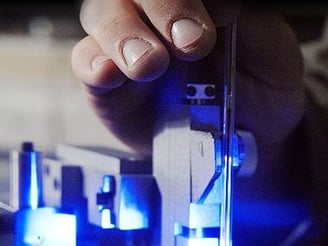 UES scientists are blazing new paths assisting the Air Force in developing and applying biology and nanoscale technologies to Department of Defense and commercial applications. We have already contributed to advancing silk-based technologies, better understanding of microbial contamination of materials, flexible materials development, sweat and water-based biological sensing approaches, functional additive manufacturing, high throughput biological analysis, and autonomous experimentation. Our scientists also have the opportunity to assist in the development and technology transfer of many new fields.
At UES, employees have the opportunity to conduct both basic and applied research, working with leading scientists in a very collaborative environment rich with instrumentation. The UES corporate environment is supportive of our employees and their families, and strives to help our scientists reach their goals.
In Biological and Nanoscale Technologies, our core capabilities include synthetic biology, biomaterials, hybrid materials, flexible materials and devices, functional additive manufacturing, pathogen-cell interactions, cellular protection, the microbiome, and real-time sensor development.
Other Capabilities
Explore our other capabilities by clicking on them below. Use the arrows on either side to see more capabilities.