Integrative Health and Performance Sciences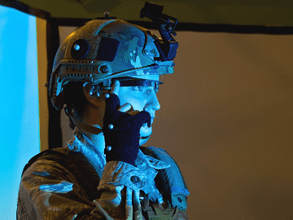 UES Scientists set the standard for high-level research in AFRL's 711th Human Performance Wing (711 HPW) and beyond. We currently work in Aerospace Medicine (Force Health Protection) and Airmen Systems (Human Signatures Branch) to enhance Air Force personnel capabilities and effectiveness, while protecting them. We are proud to serve a Directorate that considers itself the heart of Airman-centered science and technology for the Air Force.
We have already contributed to advancing marker discovery in air and biofluids, sensor development, evaluating microbiomes for health and performance, as well as toxicology, industrial hygiene, and high throughput screening for genetic and chemical exposure.
Our scientists also specialize in synthetic biology, in the area of biosensors and biocircuits, as well as directed energy bioeffects and aeromedical applications. An emerging specialty in data analytics and modeling contributes to advancing many of these fields.
At UES, employees have the opportunity to conduct research that flows in an iterative process from basic to applied to field-testing of developed technologies. The UES corporate environment is supportive of our employees and their families, and strives to help our scientists reach their goals.
Other Capabilities
Explore our other capabilities by clicking on them below. Use the arrows on either side to see more capabilities.