Ribbon Cutting at AFRL MCF Celebrates Renovations
You know UES for our Excellence in Science and Technology. Did you know we also offer the same excellence in Programmatic Support and Technical Facility Management? UES manages a few laboratories for AFRL on site at the Wright Patterson Air Force Base in Dayton OH. One of them, AFRL's Materials Characterization Facility (MCF), recently underwent renovation. To celebrate the completion of this exercise, a ribbon cutting ceremony was held on 25 May 2021 at the newly renovated Transmission Electron Microscopy (TEM) analytical lab space at the Air Force Research Laboratory (AFRL).
Informative posters were created to highlight the motivation for the renovation and the research areas impacted. AFRL Vice Commander Col. Paul Henderson, Materials and Manufacturing Directorate Chief Scientist Dr. Richard Vaia, and Deputy Director Col. Michael Warner cut the ribbon to open the renovated MCF electron microscopy labs.
Dr. Todd Butler and UES' Rich Martens gave introductions to groups touring the lab space. "Advanced instrumentation is growing increasingly sensitive to the local environment," said Butler, "and this requires a strict level of environmental control to ensure the acquisition of high-quality data and resolution. This renovation increases our existing capabilities, but also serves to future-proof us as technology exponentially advances."
UES' Drs. Krishnamurthy Mahalingam and Cheri Hampton presented their TEM research next to the Titan TEM, which was installed in the newly renovated facility. The MCF supports advanced characterization efforts in hard matter, and increasingly, in soft matter related areas. Dr. Frank Scheltens (OSU-CEMAS) ran a live-demo of the remote imaging and analysis capabilities connected to the Themis-Z at Ohio State University.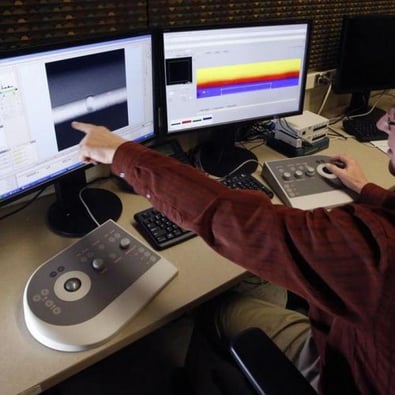 Please join us in congratulating our MCF team for managing the facility through the challenges of COVID-19, and successfully completing their renovations! If you are a US entity interested in accessing the MCF's advanced characterization facilities through a Cooperative Research and Development Agreement (CRADA) mechanism, contact us here .
---
---
---