Active Research Program Supporting COVID-19 Response within Air Force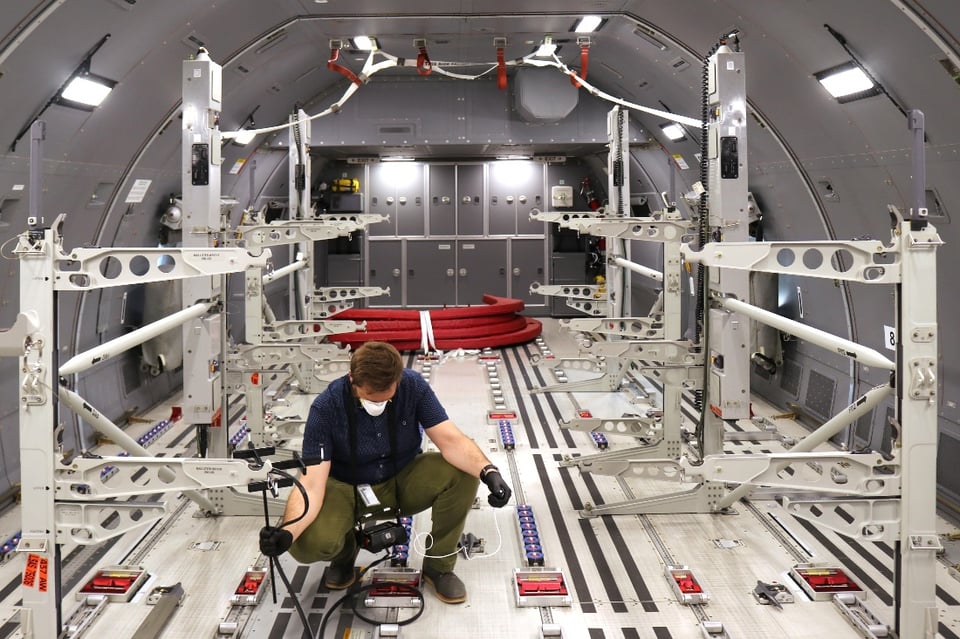 Our Integrative Health & Performance Sciences team has been responding to the new challenges brought by COVID-19 by collaborating with AFRL in advanced research to evaluate aircraft transport of COVID-19 patients.
---
Read also: Aircraft Decontamination Team Fights COVID-19
---
UES, Inc., has been working with the Air Force Research Laboratory's 711th Human Performance Wing (AFRL/711HPW) on an advanced research program focused on developing computational models to evaluate biological agent dispersal in cargo aircraft. Biological agents include bacteria, viruses, fungi, other microorganisms, and their associated toxins. They can adversely affect human health in a variety of ways, ranging from relatively mild, allergic reactions to serious medical conditions—even death. Many can spread from person to person (e.g., COVID-19, bloodborne pathogens, and influenza viruses), either directly or indirectly, and it is critically important to understand how to mitigate biological agents on Air Force cargo flights for both aircraft personnel and the transport of infectious patients.
A team of scientific and engineering personnel from UES led the structure, design, and implementation of the research to identify credible models and data characterization for airflow movement within Air Force cargo aircraft. A better understanding of airflow movement identified hot spots where biological contaminants are likely to accumulate, which will inform various strategies for decontamination.
To develop the needed computational fluid dynamic simulations, UES partnered with Siemens Digital Industries Software and used Simcenter™ STAR-CCM+™ software. The associated software and computational fluid dynamics studies of airflow are being utilized on the supercomputers at the Air Force Research Laboratory's Defense Department Shared Resource Center in Ohio.
The results of this study are being actively used by the Department of Defense to best prepare for the movement of COVID-19 patients to treatment facilities around the world. COVID-19 represents new challenges for patient flight transport and the airborne transition of the disease. The airflow study enables mission planners to understand and visualize how the air and any biological contaminants will move inside the cargo aircraft and best mitigate the risks. This data makes in-patient transfer and overall Air Force personnel transport safer for all involved.
Dr. Stephaney Shanks, Integrative Health & Performance Sciences Director at UES, states that "UES and our extended research team are incredibly proud to be supporting this effort and the Air Force's response to the global pandemic. It is gratifying to know that the scientific talents within our group are being applied to such a significant real-world problem and providing improved protocols for airmen health and safety."
Dr. Nina Joshi, CEO, attributes UES' success in this collaboration due to the scientific expertise developed as part of the firm's capabilities in Integrative Health & Human Performance. "We are honored to be a trusted partner in this effort. UES is ready and willing to support our customer community and region in anything we can add to the COVID-19 response." She adds, "When we pull together as collaborative partners within our region, state, and country, we can do extraordinary things."
---
Read also: Latest Research From Our Integrative Health & Performance Sciences Team
---