ASM International Webinar with Sandia and Robo-Met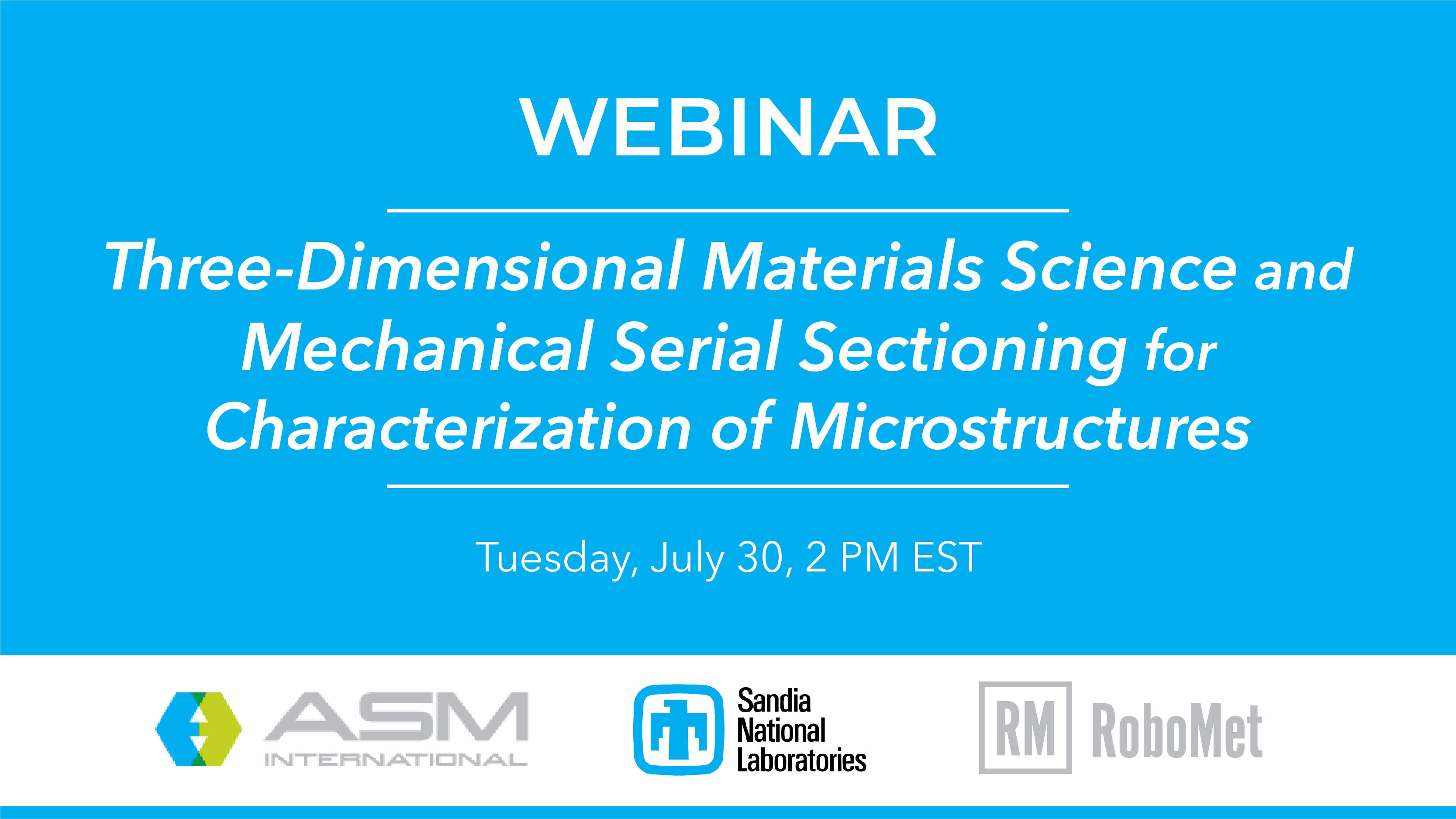 This event has passed, but you can access the webinar recording by registering for the webinar and selecting "Playback."
---
Sandia National Laboratories' Dr. Thomas A. Ivanoff will present on Three-Dimensional Materials Science and Mechanical Serial Sectioning for Characterization of Microstructures, with a focus on using Robo-Met's materials analysis. ASM International will host the webinar Thursday, July 30, at 2:00 PM, and you can register to attend today! Have a question you'd like answered in the webinar? Busy that day? Contact us here to submit your questions or request a recording of the webinar.
---
Read also: Robo-Met Publications in 2019
---
Abstract
Three-dimensional characterization can provide valuable information into material systems and microstructures often unattainable using traditional two-dimensional approaches. Mechanical serial-sectioning, using the Robo-Met.3D®, is a useful technique for three-dimensional studies. Here, three-dimensional investigations of additively manufactured 316L stainless steel, porous Ta thermal spray coatings, fiber-reinforced composites and multi-material components completed at Sandia National Laboratories are presented. The utility of mechanical serial-sectioning for evaluating complex microstructures, internal porosity and cracks is discussed and ways to leverage three-dimensional analyses for scientific investigation and for developing engineering solutions is highlighted. The benefits of a mechanical serial-sectioning approach compared to micro-computed tomography is also demonstrated for an additively manufactured microstructure. Sandia National Laboratories is a multi-mission laboratory managed and operated by National Technology and Engineering Solutions of Sandia, LLC., a wholly owned subsidiary of Honeywell International, Inc., for the U.S. Department of Energy's National Nuclear Security Administration under contract DE-NA0003525.
Presenter
About Dr. Ivanoff: Thomas Ivanoff currently works as a Postdoctoral Research Scientist at Sandia National Laboratories. He earned his doctorate in Mechanical Engineering from the University of Texas at Austin. Thomas conducts research into materials science including, microstructural analysis and mechanical performance, and provides engineering support for multiple systems/components. He also operates a mechanical serial sectioning system for three-dimensional evaluation of materials. Current projects include: characterizing additively manufactured microstructures and multi-material systems, developing three-dimensional characterization techniques, and investigating process-structure-performance relationships in novel materials.
Webinar Watch Party
If you're local, join us for a watch party at our Corporate location in Building 3 at 4401 Dayton-Xenia Rd., Dayton, OH, 45432! Snacks and beverages will be provided. RSVP by email to marketing@ues.com.
---
Read also: Metallographic Workflow for Steels and Ferrous Metals
---
Questions? Contact us here. Connect with us on Facebook, Twitter, LinkedIn, and Instagram.