Catalyst Discovery Through Megalibraries of Nanomaterials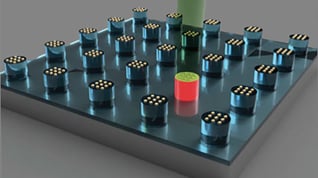 A new study published last month in the Proceedings of the National Academy of Sciences, by scientists from AFRL, Northwestern's International Institute for Nanotechnology (IIN), and UES, Inc., emphasizes the potential of a new tool developed at Northwestern University that can test millions, or even billions, of nanoparticales in megalibraries at a dramatically faster rate than previously possible.This new technology, and accompanying study, could drastically impact how we discover new materials, identify their structures, and test for desired properties.
A Perfect Pair
This study is titled "Catalyst discovery through megalibraries of nanomaterials," and by lead authors UES and AFRL's Rahul Rao, and Northwestern's Edward J. Kluender and James L. Hedrick. Together they utilized two key technologies: UES and AFRL's ARES, or Autonomous Research System, and Northwestern's SPBCL, or Scanning Probe Block Copolymer Lithography.
Lead author and ARES co-developer Rahul Rao from UES' Biological and Nanoscale Technologies division spoke to the exciting potential of pairing ARES and SPBCL: "The combination of ARES with the SPBCL technique developed by Northwestern University is the perfect marriage; it highlights the potential to rapidly screen catalytic activity at an unprecedented scale over a wide variety of particle compositions, sizes and even shapes."
Collaborative Success
As the director of the Biological and Nanoscale Technologies division, Melanie Tomczak has a lot to be happy about with this achievement. Tomczak especially values the collaborative success with this project. "We are intensely proud of our collaboration on this effort. The scientific relationship with Northwestern University through the Air Force Center of Excellence has been very productive, and reflects the high caliber of scientists from the three organizations." This new study not only highlights the potential of a new material testing technique, it also showcases the effectiveness of the U.S. Air Force Center of Excellence for Advanced Bioprogrammable Nanomaterials at Northwestern partnership between UES, AFRL, and Northwestern, which shows much promise for continued innovation.
Follow us on Facebook, Twitter, LinkedIn, and Instagram to stay in the loop!