UES Hosts Defense Manufacturing Technology Interchange

UES facilitated a Department of Defense-wide composite structures manufacturing technology interchange meeting in August 2021. Paul Hauwiller, our subject matter expert in composites manufacturing, has been supporting these critical interchange meetings for over two decades.
The overall objective of the Manufacturing Technology program is to reduce the acquisition and supportability costs of defense weapon systems and reduce manufacturing and repair cycle times across the life cycles. The advanced composite materials of interest to this audience feature matrix materials reinforced by fibers and particles. The matrix and reinforcing materials may be very dissimilar. However, in combination, these materials provide many befits, such as unusually high strength and stiffness, with very light weight. Composites can also be engineered to resist high temperatures, or aggressive chemical environments. As a result, these materials are replacing metal components in many uses, especially in aerospace applications.
Composites Structures (organic and ceramic matrix composites, and similar materials) manufacturing technology (ManTech) projects from the Army, Navy, and the Air Force were presented. Potential Technology users included DoD prime contractors (such as Boeing, Lockheed Martin, Northrop Grumman, and Rolls Royce), 1st tier suppliers, small businesses, and material suppliers (including Bell Flight, Qarbon Aerospace, Solvay, Hexcel, and Hawthorn Composites). Technology approvers included representatives from program offices and engineering organizations. Other organizations such as NASA and the DOE Composites Manufacturing Institute were also in attendance.
UES is facilitating these stakeholders' collaborations to solve a relatively complex set of technology maturation hurdles. For example, it can be challenging to fabricate composites, and inspect them for flaws in an efficient manner. Repair of damaged composites is also an active area of work.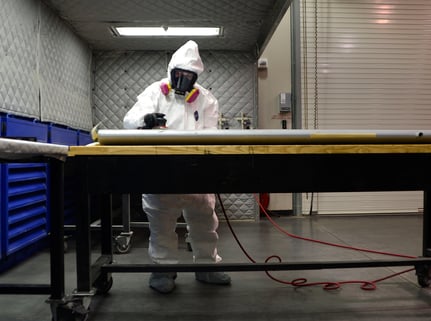 Courtesy AF Image Database: Senior Airman Joshua, a 432nd Maintenance Squadron aircraft structural maintenance journeyman, sands down a wing panel for the MQ-1 Predator Feb. 18, 2016, at Creech Air Force Base, Nev. The Predator and MQ-9 Reaper are made completely of composite materials such as carbon fiber, Kevlar and specialized variations of fiberglass. Structural maintenance Airmen must wear proper protective equipment to keep the hazardous carbon shavings and paint from being inhaled. (U.S. Air Force photo/Senior Airman Christian Clausen)
2021's review brought together over 70 technology developers, potential technology users and approvers representing government and industry to review over 25 projects. A coordinated review by all three stakeholder groups is essential for successful technology transition. The technology advancements need to be sufficiently mature to lower the risk for industry to propose new manufacturing approaches to build next generation systems. In parallel, government program office and engineering personnel must have sufficient familiarity and confidence to consider these manufacturing approaches an acceptable risk for next generation systems. This coordinated strategic alignment and review accelerates technology acceptance and application to address Service and DoD priorities.
Contact us (info@ues.com) to learn more about UES' work in composites development, maturation and application technology areas.
---