DOE Recommends UES for STTR Phase II Contract
---
Dayton firm extends Surface Technologies Initiative into Nuclear Repair
Dayton, OH, 10 Mar 2016
UES Inc., a Dayton-based Science and Technology firm, announced that the SBIR and STTR Programs Office within the Department of Energy (DOE) Office of Science has recommended UES Services for award of an STTR Phase II to begin in Q2 2016.
The effort is headed by Dr. Rabi Bhattacharya, a 2015 R&D100 Award Winner. Drs. Bhattacharya and A. K. Rai (co-lead) proposed to investigate repair of materials degradation in light water nuclear reactor components. The proposal builds on the team's Phase I work, and has been recommended for a term of two years (2016-2018), and an award amount of about $1.5 million. UES is also developing two other Phase II technologies - Durable High Temperature Coatings for Utility Scale Gas Turbine Hot Gas Paths, and High Temperature Unique Low Thermal Conductivity Thermal Barrier Coatings for the DOE.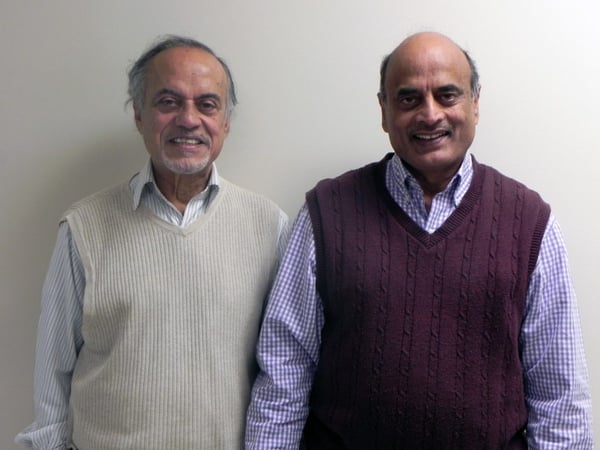 L-R: Drs. Rabi Bhattacharya (lead), and Amarendra K. Rai (co-investigator) on this effort.
The material components in nuclear reactors are exposed to a very harsh environment and eventually degrade and need to be repaired. The UES team aims to address this need by delivering an innovative cold spray/laser technology as a repair mechanism for nuclear reactors. This technology will enable customers to extend product life of critical parts, reducing repair and replacement costs and downtime. The process offers a solution that:
Is field deployable in challenging environments
Is easy to train end users on
Provides robust repairs, with proven repair component reliability, and
Keeps repair and replacement costs and downtime comparable to conventional processes
The proposed Phase II STTR program will be executed by UES scientists, in collaboration with the Pennsylvania State University (PSU) and Argonne National Laboratory (ANL). Dr. Nina Joshi, President and CEO, added "This award recognizes UES' core strengths in surface engineering, and developing innovative solutions for existing challenges. We also build very effective teams from within and outside UES to tackle these problems in a multidisciplinary manner, and invite interest from potential collaborators."
About UES Inc:
Founded in 1973, UES, Inc. is an innovative science and technology company that provides its government and industry customers with superior research and development expertise and world-class support. We take great pride in developing products and services from our technologies for commercialization and transition.
Please contact us at

info@ues.com

, Ph: (US) 937 426 6900, Fax (US) 937 429 5413.

UES Inc., 4401 Dayton Xenia Rd., Dayton, OH 45432-1894;

www.www.ues.com