UES Launches ELMNT™ Conducting Ink at NextFlex Innovation Days
UES's Emerging Products team launched a revolutionary new conducting ink at NextFlex Innovation Days. Developed from AFRL technology, the product offers robust performance and consistent resistance under strain for wearable, flexible, and stretchable applications.
---
Customer Driven Innovation
ELMNT Conducting Ink is a new conductive ink based on liquid metal technology that meets a critical need in flexible electronics. The technology was developed in partnership with the AFRL. The team surveyed key customer segments in Government, Academia and Industry, including representatives from notable organizations such as NextFlex, Boeing​, Panasonic Electronic Materials, E. L. Gore, Lubrizol, and Raytheon. It became apparent that ELMNT addresses key pain points that competitive materials do not. Most competitive materials, such as silver and carbon, increase in resistance when stretched. ELMNT overcomes this limitation using patented nanoarchitecture liquid metal technology. ELMNT maintains consistent resistivity under high strain, minimal hysteresis under cycle testing, and can has similar or lower costs to many other conducting inks. ELMNT's current formulations screen printed, slot-die coated, or airbrushed onto various substrates.
Developing a Revolutionary Product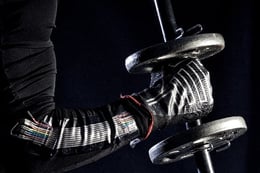 The team used the well-known Agile development methodology adapted to hardware to achieve a versatile product. "Agile was critical to ELMNT's success because it allowed us to quickly iterate and achieve known customer specifications," commented Dr. Zack Farrell, co-inventor of ELMNT. These discrete Sprints - short, repeating blocks of time in which key parts of the project are completed. In parallel, commercial aspects including branding, IP protection, and packaging suitable for initial applications were developed comprehensively. The result was a conducting ink that formulated for various commercial substrates. In addition, several prototypes demonstrated use cases, such as heated textiles, data communication, and capacitive-touch sensors that did not fail under strain.
NextFlex Innovation Days
UES launched the product formally at NextFlex Innovation Days Aug 3–5, 2021. Using a hybrid in-person and virtual approach, NextFlex gathered Flexible Hybrid Electronic subject matter experts from among NextFlex members and government partners, to celebrate their latest collective achievements and plans for future collaboration.

In a lighter vein, here's a peek behind the curtain at the UES team diligently preparing their event infrastructure. We will go to great lengths to present our products in the best light!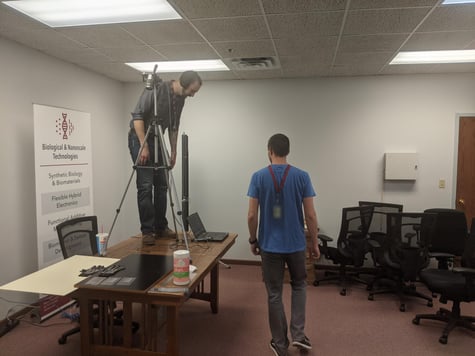 Request your Own Sample Kit!
We've welcomed several new customers into the ELMNT user group from NextFlex, and would love to have you join us in collaborations. You can receive your own sample kit to test out the blade coating application technique. The kit comes complete with all the materials you will need. You can also contact us for live product demos. To keep up with us, opt-in for ELMNT updates here, so we can share product updates, event information, and more.

---
Want to do your own hands-on tests? Request your own sample kit!
---
Questions? Contact us here. Connect with us on Facebook, Twitter, LinkedIn, and Instagram.