Madeline Gruenberg | Intern | Employee Spotlight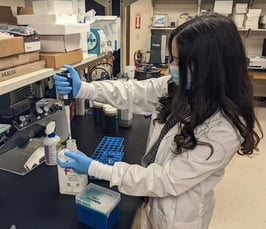 Madeline Gruenberg
---
Intern
---
Integrative Health & Performance Sciences
UES engages about 30 interns a year in hands-on, minds-on research and they gain some amazing experiences. In this Spotlight, we highlight Madeline Gruenberg, a Junior at Wright State University studying Biochemistry and Molecular Biology. She plans to pursue a doctorate in Molecular Biology and return to work in a research lab.
What can you tell us about your work at UES?
As a lab, we focus on being able to optimize the Warfighter to help complete their Missions. Our work focuses on the engineering of microbial biosensors to detect human biomarkers. The idea is that we can engineer these sensors into smart probiotics to detect an issue within the Warfighter and produce a response. Work such as this can help our Warfighters return to their regular duties faster or maintain them at optimal performance.
Who would your work impact?
Our technology should be most impactful for the Warfighter. There are so many stressors they face when deployed that could take them off of their regular duties. We aim to counteract these stressors by developing and characterizing some of the most promising microbial biosensors that may be used to relieve this stress while deployed. The health, safety, and performance of our Warfighters is our ultimate goal and how we define success.
What do you think you bring to your work that is uniquely positive?
I bring a very childlike excitement and curiosity to my work. Regardless of how many times I do an experiment or analyze data, it never ceases to amaze me. I feel so lucky to wake up in the morning and come into a job that I am passionate about!
How did you find this opportunity at UES?
As a freshman at Wright State, I was paired with a senior in my department to act as a mentor while beginning my degree. This senior, Christina Davis, happened to be a current student working with Dr. Breedon. Christina was preparing to leave for graduate school and was looking to fill her position. Despite my nerves, she encouraged me to apply and even helped me make my very first CV. I am so thankful to be a part of a lab that emphasizes growing both scientifically and academically.
What would your advice to other students looking for internships be?
When going into an internship, the most important thing you can take away is experience. You get the opportunity to spend time with people who have valuable life experiences, at a company that is offering you part of their everyday responsibilities. I urge you to go in excited to be a part of it, excited to meet people, and excited to give presentations. Everyone around you is rooting for your success, so take advantage of their presence and get excited to be a part of something so integral to a project.

Also, bring a willingness to make mistakes. Learning new skills can be challenging at first and mistakes are expected. My mentors describe growth as an exponential curve. It can be slow going at first as you were learning how the lab runs and how to take laboratory notes, but once you understand it, you shoot up exponentially and are able to take on the work with more independence. It's normal to be nervous, but when you are surrounded by mentors that are constantly rooting for your success you have to stick your neck out and accept the mistakes that come your way because there is no better way to learn.
Check out the many positions posted at The UES Careers Page.