New Materials Characterization Insights Shared at TMS 2020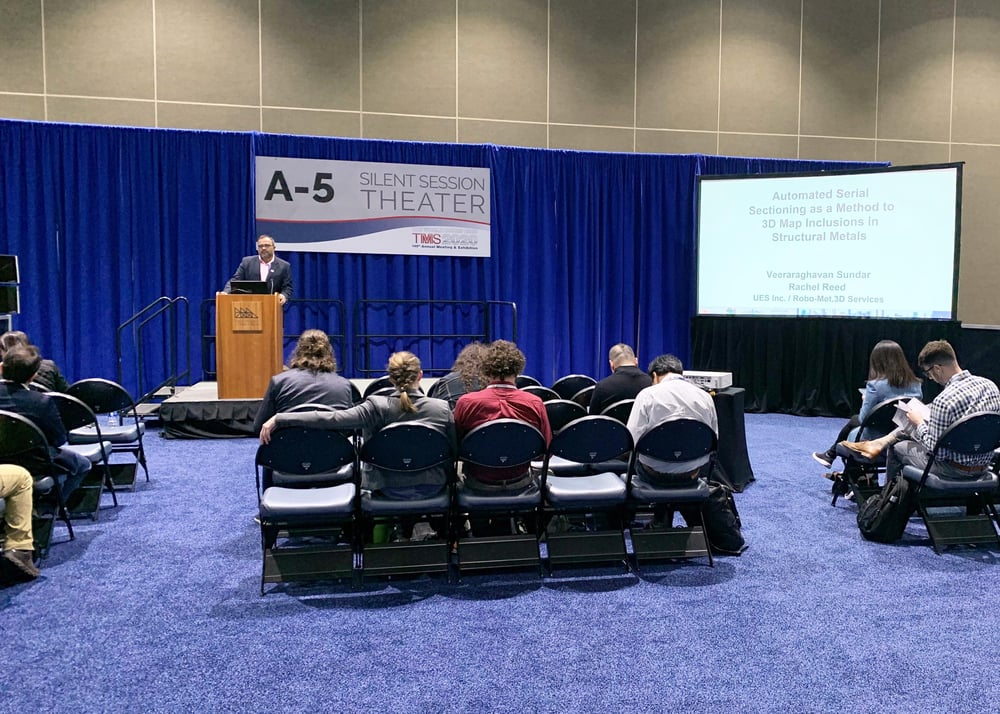 It was a pleasure to meet and reconnect with many of you at the TMS 2020 meeting in San Diego. We had some great conversations at the booth and in the sessions. The conference hosted several in-depth presentations on using Robo-Met technology in impactful ways.
---
Read also: 2020 Research Using Robo-Met's Materials Analysis
---
Flaw Identification in
Additively
Manufactured Components: Capabilities and Limitations
Penn State ARL's Dr. Jay Keist anchored a thought-provoking presentation on Monday, February 24. In a session dedicated to Processing-Structure-Property-Performance in AM applications, Dr. Keist presented their studies evaluating CT-based flaw detection and quantification in AM samples using ARL's automatic defect recognition (ADR) algorithms. He then compared the ADR results to ground truth data from Robo-Met.3D®'s serial sectioning approach. They verified their individual flaws, size distribution, and spatial positioning by human observation. In the volume examined, serial sectioning identified 391 flaws distributed through the sample. CT identified only 56. Serial sectioning also found a wider range of void sizes than CT. This indicated the need to examine the CT probability of detection curves in more depth and validate results.
A New Characterization Tool for 3D Orientation Microscopy at Mesostructure Length Scales
| | |
| --- | --- |
| Tuesday's session on 3D characterization contained an excellent series of presentations. Dr. Peter Collins of Iowa State University unveiled their latest Robo-Met integration: SRAS. SRAS stands for Spatially Resolved Acoustic Spectroscopy. SRAS provides orientation information for materials with known anisotropic elasticity tensor components. Unlike with EBSD techniques, SRAS does not need to examine these materials in vacuum. Dr. Collins discussed early results, as well as the possibility of adding a transfer mechanism. Robo-Met's high quality metallographic polish enables integration with other characterization techniques. (Image from here, where you can learn more about Dr. Collins and his work). | |
Automated Serial Sectioning as a Method to 3D Map Inclusions in Structural Metals
UES, Inc.'s own Robo-Met team has gained considerable experience in solving problems for industry. Dr. Sundar presented some of these case studies in the 3D Characterization session. Starting with a ceramic inclusion that initiated WERs and spalling in an aerospace bearing, the talk featured evaluations of aerospace components for complex inclusion distributions, as well as AlFeSi intermetallics in Al alloys and nodular graphite in gray cast iron. Quantifying these inclusions is a unique strength of the serial sectioning technique.
From Fundamental Research to Engineered Components: Application to 3D Materials Science and
Three-Dimensional Characterization of Microstructure and Elemental Segregation of Thermal Spray Coatings
Sandia National Laboratory's Dr. Jonathan Madison and Dr. Thomas Ivanoff both gave presentations that Thursday. They presented their extensive experience with 3D investigations of additively manufactured 316L stainless steel, porous Ta thermal spray coatings, fiber-reinforced composites, and multi-material components. They used mechanical serial sectioning for evaluating complex microstructures, internal porosity, and cracks. Sandia highlighted ways to leverage 3D analyses for both scientific investigation and developing engineering solutions. They also demonstrated the benefits of mechanical serial sectioning, compared to micro-computed tomography, for an additively manufactured microstructure.
---
Read also: Metallographic Workflow for Ceramic Matrix Composites
---
Overall, attendees found TMS was a great opportunity to learn what the best minds in our field are doing with Robo-Met data. You can learn more about Robo-Met and how it can help you solve your materials challenges here. Have particular material challenges you'd like to discuss with our experts? Contact us here.