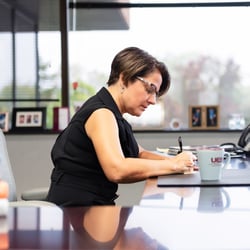 Heraclitus, a Greek philosopher, has been quoted as saying "change is the only constant in life."
We all face change in our lives every day – whether it is a simple change to a child's school schedule, our meetings get shuffled because of a client emergency or even the expected change of the seasons. Change affects us all and we each deal with change differently, even though change is the only thing we can be sure will happen to us.
I think many of us have a complex relationship with change. I know I sometimes do. Today I'm reflecting on "change" as we at UES, Inc. have recently said goodbye to some valued leaders and associates who made their changes, and are moving in new and different directions. We will miss them along with their leadership and skills, as they contributed to our growth and culture as an organization. I know firmly, though, that these evolutions are welcome as we are also open to the infinite possibilities of our own "change," growth, and new endeavors. Since we're in the business of science and technology, development and discovery, I embrace these changes with a positive outlook for possibilities rather than the fear of the unknown.
Here at UES we are being intentional and proactive about structural change as well. We're implementing several changes as an organization that will help us digitize our processes, and implement automated systems. These new systems will help all our associates be more productive, and make better decisions every day, to enhance customer value. New ways of working and new systems are not always easy to implement. However, the hard work we put in now will pay off in efficiencies in the longer term. I've come to realize it's not the circumstances that dictate how my life will go, but rather, how I handle those transitions and detours. No matter what change we experience, how we embrace that change will impact how we are able to live with the change.
Next year UES will celebrate our 50th anniversary. As you can imagine we have seen our fair share of changes to not only our company and the clients that we serve but also to our country and the global environment our National Security Enterprise operates within. I feel we have been agile in our acceptance of change and know that it comes naturally to us as scientists and engineers. Discovery (which can be change in action) and research are in our DNA, so to speak.
As we say Godspeed to our friends and colleagues who have moved in new directions, and as we navigate new systems in the workplace, and move confidently into our 50th year as a science and technology firm, we are happy and excited about our new possibilities with our newest leaders and future discoveries. I'm hoping you will also embrace the changes in your lives and celebrate your future changes and growth as well.