2022 Research Using Robo-Met's Materials Analysis

Every year our customers find interesting applications to investigate. Learn more some of this year's new insights uncovered through Robo-Met.3D®'s automated serial sectioning here. Contact us to learn more about how you can use Robo-Met to get the material insights you need today.
---
Read also: Robo-Met Publications in 2021 | 2020 | 2019 | 2018 | 2017
---
A fully coupled thermomechanical computational framework based on the Hot Optimal Transportation Meshfree (HOTM) method is presented to derive the process-microstructure-properties correlation for resin-based friction composites manufactured by hot pressing technique. The raw material is considered as reinforcing fibers and strengthening particles explicitly embedded in a continuum porous media. The manufacturing process is modeled as the raw material experiencing extremely large compression under applied pressure and temperature boundary conditions to predict the formation and evolution of the composite's microstructure.To investigate the various phases including porosity and fiber content (and orientation), sections of the samples are examined using the RoboMet.3D®system (UES inc, OH, USA). Each sample was sliced into 146 slices used for 3D rendering.
A chemo-thermo-mechanical constitutive model is proposed to describe the dynamic response of the matrix material involving large inelastic deformation, resin melting and polymerization. The microstructure of the final product produced by hot pressing processes is predicted by solving the deformation, temperature and curing degree of the raw material using the HOTM method. The computational framework is validated by comparing the calculated fiber orientation distribution in the friction materials to experimental measurements under various processing conditions. The sensitivity of composite's mechanical properties on the fiber orientation is further studied by the proposed numerical method and experiments..
Citation: Wang, H., Li, X., Phipps, M., & Li, B. (2022). Numerical and experimental study of hot pressing technique for resin-based friction composites. Composites Part A: Applied Science and Manufacturing, 153, 106737.
Category: Structural Metals
The elevated temperature strength of multicomponent Al-Si alloys is greatly affected by the volume fraction and the interconnectivity of hard phases formed upon solidification. In the present investigation, such influences were examined for two Al-Si-Cu-Ni alloys with different total volume fractions of hard phases. To control the microstructural features related to the size of the phase, the specimens were prepared with and without ultrasonic melt treatment (UST) at different cooling rates. The microstructures of the alloys were composed of primary Si, eutectic Si, (Al,Si)3(Zr,Ni,Fe), Al9FeNi and Al3(Cu,Ni)2 phases. The microstructural features, such as the size and aspect ratio of each phase, changed with UST and cooling rate, and accordingly, the elevated temperature strength at 350 oC was changed. The alloy with a high volume fraction of about 30 vol.% exhibited increased elevated temperature strength at 350 oC when ultrasonic melt treated, and the alloy having a volume fraction as low as about 18 vol.% exhibited the opposite results. Considering the microstructural features of the multi-component Al-Si alloy, a hexagonal shear-lag model was suggested, based on the well-known shearlag model proposed by Nardone and Prewo (Scr. Metall. 20;1986:43-48). Using the 2-D microstructural factors such as the size, aspect ratio of the phase and secondary dendrite arm spacing, the elevated temperature strength was calculated and compared with the measured value. Based on the hexagonal shear-lag model, the influence of microstructural factors on the elevated temperature strength was discussed for multi-component Al-Si-Cu-Ni alloys.
Citation: Jo, M. S., Cho, Y. H., Lee, J. M., Kim, S. B., Kim, S. H., & Jang, J. I. (2022). A Study on the Interrelationship between the Microstructural Features and the Elevated Temperature Strength of Multicomponent Al-Si-Cu-Ni Casting Alloys. Korean Journal of Metals and Materials, 60(7), 489-501.
This work explores the correlation between the characteristics of the cast structure (dendrite growth pattern, dendrite morphology and macro-texture) and strain hardening capacity during high temperature deformation of Mg-5Sn-0.3Li-0 and 3Zn multi-component alloys. The three dimensional (3D) morphology of the dendrite structure demonstrates the transition of the growth directions from<113>,<110> and <112> to< 113> and <110> due to the addition of Zn. The simultaneous effects of growing tendency and the decrement of dendrite coarsening rate at the solidification interval lead to dendrite morphology transition from the globular-like to the hyper-branch structure. This morphology transition results in the variation of the solidification macro-texture, which has effectively influenced the dominant deformation mechanisms (slip/twin activity). The higher activity of the slip systems increases the tendency of the dendrite arms for bending along the deformation direction and fragmentation. Apart from this, the dendrite holding hyper-branch structure with an average thickness below 20 µm are more favorable for fragmentation. The dendrite fragmentation leads to considerable softening fractions, and as an effective strain compensation mechanism increases the workability of dendritic structure.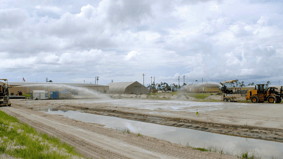 Citation: Jalali, M. S., Zarei-Hanzaki, A., Mosayebi, M., Abedi, H. R., Malekan, M., Kahnooji, M., ... & Kim, S. H. (2022). Unveiling the influence of dendrite characteristics on the slip/twinning activity and the strain hardening capacity of Mg-Sn-Li-Zn cast alloys. Journal of Magnesium and Alloys.
The effect of ultrasonic melt treatment (UST) on the solidification microstructure of an Al–5Ti–1B alloy containing high-volume fractions of Al
3
Ti and TiB
2
particles is investigated for various UST times with different melt holding times. The as-cast Al–5Ti–1B alloy is composed of TiB
2
and polygonal Al
3
Ti particles (present prior to UST), plate-like Al
3
Ti particles, and Al grains (formed during UST and/or solidification). The UST causes a size reduction and homogeneous distribution of the TiB
2
-agglomerated region containing many submicron-sized TiB
2
particles pushed to the grain boundaries. The UST slightly decreases the size and improves the distribution of polygonal Al
3
Ti particles enriched in the TiB
2
-agglomerated region. Unlike the TiB
2
and polygonal Al
3
Ti particles, which exhibit a minor refining effect, the plate-like Al
3
Ti particles show a significant refinement with UST application. The UST has a significant effect on the size distribution of Al grains by inducing the formation of medium-sized grains at the expense of small and large grains; however, it only has a slight effect on grain refinement. The degree of microstructure modification increases with increasing UST time but decreases with melt holding time after UST. The mechanisms for the refinement and dispersion of the TiB
2
and Al
3
Ti particles and Al grains are discussed considering fragmentation, nucleation, and growth behaviors induced by the UST and subsequent solidification.
Citation:
Kim, S. B., Jung, J. G., Cho, Y. H., Kim, S. H., Euh, K., & Lee, J. M. (2022). Effect of Ultrasonic Melt Treatment on Solidification Microstructure of Al–5Ti–1B Alloy Containing Numerous Inoculant Particles.
Metals and Materials International
,
28
(7), 1549-1560
.
Category: Autonomous Experimentation
Optimization of automated data collection is gaining increased interest for the purposes of enabling closed-loop self-correcting systems that inherently maximize operational efficiencies and reduce waste. Many data collection systems have several variables which influence data accuracy or consistency and which can require frequent user interaction to be monitored and maintained. Operating upon a Robo-Met.3D automated mechanical serial-sectioning system, a run-to-run control algorithm has been developed to accelerate data collection and reduce data inconsistency. Using historical data amassed over a decade of experiments, a linear regression model of the deterministic system dynamics is created and used to employ a run-to-run control algorithm that optimizes selected system inputs to reduce operator intervention and increase efficacy while reducing variance of system output.
Citation: Gallegos-Patterson, D., Ortiz, K., Danielson, C., Madison, J. D., & Polonsky, A. T. (2022). A Framework for Closed-Loop Optimization of an Automated Mechanical Serial-Sectioning System via Run-to-Run Control as Applied to a Robo-Met. 3D. JOM, 74(8), 2930-2940.
Category: Additive Manufacturing
Additively manufactured (AM) components contain discontinuities, indications and defects that can change the component's mechanical performance during high energy impact events. X-ray computed tomography (XCT) reconstructions of AM metastable titanium disks (Ti-5Al-5V-5Mo-3Cr or Ti-5553) were generated on an industrial micro-focus system. Each sample was scanned before and after high velocity impact testing. The porosity resulting from the direct metal laser sintering (DMLS) powder bed fusion machine was detected and characterized. The samples were placed in a gas gun configuration to induce a high-rate tensile load (shock test). The post-test results on the recovered disks contained incipient spall cavities. These features were identified by standard volume segmentation techniques. This inspection data is also evaluated with machine learning (ML) algorithms. A comparison between ML segmentation of the pores/cavities to standard commercial segmentation algorithms will be presented. Improvements using ML were specifically seen in the identification of pores and spall planes in regions of low x-ray attenuation (brightness and contrast). Common XCT artifacts, which include beam hardening and systematic noise, were overcome by the applied ML methods. Porosity and spall plane regions identified by the machine learning analysis were then compared to serial sectioning and scanning electron microscope (SEM) data to judge the precision and accuracy of the machine learning technique. Results show that the CT reconstructed porosity aligned well with the serial sectioned and SEM data. The only discrepancies were in the small pores near the detectability limit and other metrics dependent on the XCT reconstruction resolution.
Citation: Moore, D. G. (2022). Characterization of Additively Manufactured Circular Disks Using Traditional Computed Tomography Volume Segmentation and Machine Learning Algorithms.
Category: Articles Mentioning Robo-Met.3D
Boyce, B. L. (2022, July). Microstructural Black Swans. In IOP Conference Series: Materials Science and Engineering (Vol. 1249, No. 1, p. 012004). IOP Publishing.
Bukkapatnam, S. T. (2022). Autonomous Materials Discovery and Manufacturing (AMDM): A review and perspectives. IISE Transactions

, (just-accepted), 1-41

.
Polonsky, A. T., & Callahan, P. G. (2022). Applications of Autonomous Data Collection and Active Learning. JOM, 74(8), 2895-2896.
---
Connect with us on Facebook, Twitter, LinkedIn, and Instagram.
Want to talk about how Robo-Met's potential for your specific application?