Sara McLain | Intern | Employee Spotlight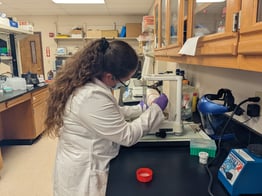 Sara McLain
---
Intern
---
Integrative Health & Performance Sciences
UES engages about 30 interns a year in hands-on, minds-on research and they gain some amazing experiences. In this Spotlight, we highlight Sara McLain, a student of Biochemistry and Molecular Biology.
What can you tell us about your work at UES?
I joined UES as an assistant in a study to detect COVID-19 in wastewater - a fascinating project. After this project concluded, I transitioned into microbial biology research building biosensors for human performance.
Who would your work impact?
Both projects I've worked on have the biggest potential impact on the Warfighter. Using wastewater surveillance, we can monitor conditions at a population level to help inform leadership and aid in decision making. While we focused on COVID detection, this technique can be used to monitor for a range of conditions. With the biosensor work, it's important to be able to monitor warfighter performance and stress levels. By developing and characterizing new biosensors, we can incorporate them into diagnostics or smart probiotics to monitor or counteract conditions affecting human performance.
My work has been impactful to me as well. I was pursuing Medical Laboratory Science degree but starting this fall I'm pursuing Biochemistry and Molecular Biology. Working here, especially with working with developing biosensors, has helped me discover new research interests in a field I hope to make valuable contributions to.
What do you think you bring to your work that is uniquely positive?
I used to be a CNA and then an EMT. The medical experience I bring has been valuable in a Warfighter performance oriented research. I am excited by learning, and I think I've gained a lot of good experience out of my internship here. This has had a positive impact - I have gained the confidence to explore a new study and career path.
How did you find this opportunity at UES?
Wright State University's Careers and Internships office was instrumental in making my connection to UES. When I asked for help in applying for internships, I was advised to check Handshake, our portal for open positions. I applied to this position and it's been fascinating to work here.
What would your advice to other students looking for internships be?
I would ask any intern to be open to new opportunities. Experience must start somewhere, and early in our careers is a good stage to try different field and applications. New experiences can always open up paths that we haven't considered, and I am grateful for that opportunity.
Check out the many positions posted at The UES Careers Page.