Scaling up Nano from Lab to Pilot Scale Plus for Tech Transfer
Nanomaterials (e.g., carbon nanotubes; silver, gold, copper, and silica nanoparticles) are increasingly employed into new and existing consumer products for their novel or improved properties that they can impart. Nanotechnology's increasing commercial impact implies that steady and reliable supplies of nanomaterials at scale are an important part of establishing the viability of the exciting new materials capabilities being developed. UES' core competency in scaling up nanomaterials manufacturing offers a versatile and reliable option to bring more technologies into commercial viability.
The Challenges of Scaling Up Nanomaterials
Nanomaterials tend to scale up nonlinearly in their manufacturing. This creates technical challenges, as the desirable novel properties are highly dependent on process and purification parameters – time and temperature, residence times, fluid mixing – all of which play a part in the final product. The sensitivity to processing is not always evident at a bench scale, and the synthesis expertise of the scientists involved can compensate for process variations.

UES's scientists with their AFRL partners have made significant advances in nanomaterials. Two key examples of such nanomaterials are our ELMNT™ Conductive Inks and AURA™ Gold Nanoproducts. UES has invested resources that enable the cost-effective transitioning of these nanomaterials, scaling their production over orders of magnitude over what can by synthesized at a lab bench. Our teams pay careful attention to key quality assurance parameters, process stress testing, and cost control in process optimization.
Case Studies to Pilot Scale Plus
As an initial case study, ELMNT.BA liquid metal inks were lab-synthesized for blade coating at about a 5g batch size. Our tech transition team closely integrates its engineering and manufacturing expertise with UES scientists' bench insights. After extensive process parameter documentation and iterative refinement and troubleshooting, the process has been scaled up over 100x, and made flexible to accommodate ongoing product innovations and modifications for other application processes such as screen printing.

Another key success has been scale up of processes to synthesize AURA™ gold nanoproducts of varying aspect ratios. Using in-house expertise, UES teams were able to scale up a 1mg/day process to 3000x scale. This enhances the cost-effectiveness of the material. UES is now working with the US Army through an SBIR Phase II to develop Aura Gold Nanoproducts that have infrared (IR) filtering properties for use in the next generation of technology applications.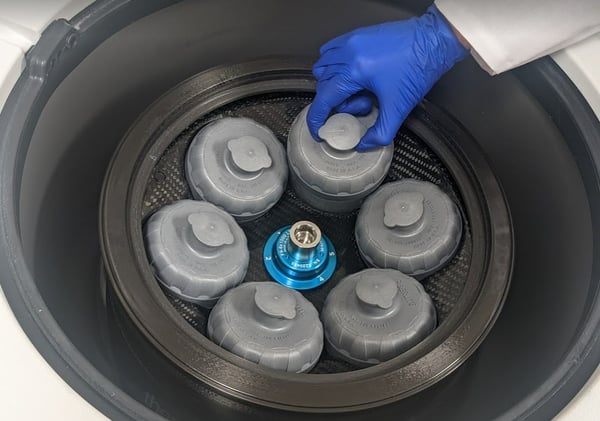 Partner with Us to Scale Up your Technology!
On this larger pilot scale, UES brings needed rigor and documentation to de-risk the manufacturing process. The pilot plant stage is the step beyond the lab bench. It provides critical data for equipment scale-up, process control, and the impact of QA decision streams. Piloting implements the processes conducted at the bench level, but within a larger integrated system, which simulates the conditions that would be experienced in a full commercial plant. UES's tech transition teams determine the technical and economic feasibility of a nanomaterial process and verifies them at the pilot plant stage.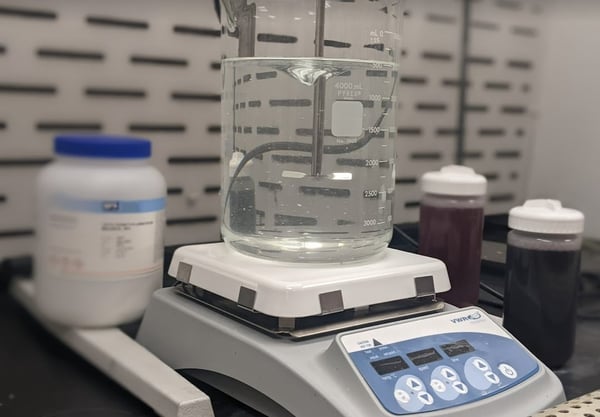 Contact us if you have a nanomaterial process that needs effective scaleup. Our teams have a proven track record in preserving the critical technical attributes of the nanomaterial during the scale-up process. Due to our highly flexible manufacturing approach, you can actually afford to use them! Contact us using the link below to get started!

---
Questions? Contact us here. Connect with us on Facebook, Twitter, LinkedIn, and Instagram.