If you're attending FLEX 2019, make sure to stop by booth #5005 to learn more about:
Opportunities in human performance, biology, nanotechnology, and more
Partnering with us for research and development
Material analysis solutions for additive manufacturing
Coatings for die cast components
Gold nanorod trial offer
After attending for several years, we're excited to exhibit this year at FLEX 2019! Dr. Stephaney Shanks, Director of the Integrative Health & Performance Sciences division, and Dr. Melanie Tomczak, Director of the Biological & Nanoscale Technologies division, will represent their divisions and UES as a whole alongside Erin Ruef, UES' Marketing & Communications Manager.
---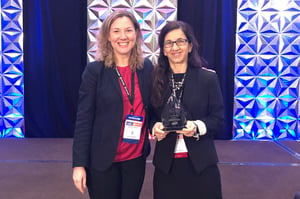 While this is the first year UES is exhibiting, we're not new to the event all together. Last year, Tomczak accepted 2018 FLEXI R&D Achievements Award for her team's innovative human-monitoring sweat patch, developed in collaboration with GE Global Research, NBMC, Air Force Research Laboratory (AFRL), and Dublin City University.
We're also proud to sponsor the Women in Tech Breakfast on Wednesday, February 20, from 7:00-8:00 AM, in the Oaktree Room, and we'd love to see you there! We're passionate about diversity in science and technology and we're eager for you to join in the conversation about diversity and workforce development in the electronics manufacturing industry.
---
This breakfast is especially important to the group attending FLEX 2019 because as leaders in their scientific fields, Dr. Stephaney Shanks and Dr. Melanie Tomczak are more than just role models for women and girls in STEM. They're also committed to actively giving back to their community, from organizing and participating in humanitarian efforts on a team level, to mentoring and developing STEM students to be the next generation of scientists that solve tomorrow's scientific challenges.