UES Celebrates 45th Anniversary Year
UES, inc. celebrates its 45 year anniversary this year. UES associates gathered for a celebratory kickoff yesterday at the firm's Beavercreek headquarters. The Dayton firm has nurtured and grown its reputation for excellence in science and technology since 1973.
Addressing the gathering, UES' founder, Dr. Krishan Joshi attributed the company's success to innovation and employees. "We have grown from very small beginnings – just a few employees – to where we are today… Companies that innovate will own the future." He stressed the company's culture of listening to and being responsive to customers, and taking care of its employees.
Dr. Nina Joshi, President and CEO, added "UES is very lucky to have you with us. The heart of UES – the secret of our success – is that we have been able to attract and retain great people."
The group toasted the company's history and culture, and looks forward to the new challenges and successes of the next 45 years.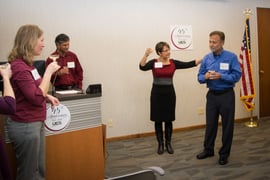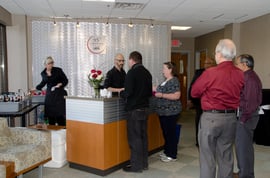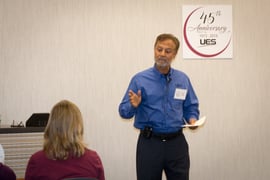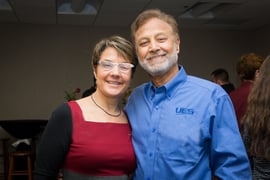 Today, UES serves government and industry customers, while maintaining its focus on its work with the US Air Force Research Laboratory. UES scientists and engineers support the USAF with capabilities in materials and processes, surface engineering, aerospace power and propulsion, biological and nanoscale materials, photonics and electronics, and integrative health and performance sciences. Since its early years, UES has also built up its own R&D facilities, enabling the development and spin-out of companies, as well as several technologies as commercial products. The firm is a leader in SBIR awards in the state of Ohio.
Click here to contact us, and stay connected through Facebook, Twitter, LinkedIn, and Google+!
Contact
Veeraraghavan Sundar, Ph.D., M.B.A.
Manager, Marketing, vsundar@ues.com