UES, Inc. is happy to announce the second successful install of and training for their newest product, Robo-Met.QC® at Hill Air Force Base in Ogden, UT!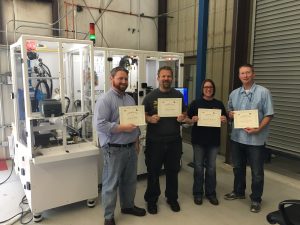 The Robo-Met.QC system provides for consistent, rapid, automated quality control of thermal spray coatings, used by Air Force Sustainment Complexes in maintenance, repair, and overhaul (MRO) operations. The system improves throughput, efficiency, and consistency of the metallography process, and enhances platform uptime for availability to warfighters.
Robo-Met.QC will section, clean, mount (under vacuum or atmosphere), polish, and image standard thermal spray coupons without operator interaction. The operator inserts coupon and selects a recipe. The system's internal recipes then carry out the metallographic and imaging processes all in an automated fashion.
An offshoot of UES' flagship Robo-Met.3D® product, the new system represents another AFRL Technology Transition success. A technology platform originating in AFRL/RX now has a place in Air Logistics Centers.
Implementation of Robo-Met.QC within sustainment depots and MRO operations is expected to significantly increase the efficiency of aerospace MRO processes. UES is currently working on extending this technology to other coatings processes such as supersonic particle deposition.
Learn more about the system at: https://www.ues.com/robo-met-qc/
Questions? Contact us here. Connect with us on Facebook, Twitter, LinkedIn, and Google+!