UES A Winner of AFRL $42M Nanoelectronic Materials Contract
---
We are pleased to announce that the US Air Force Research Laboratory (AFRL) has selected UES for a 6-year, US $42 Million research and development contract.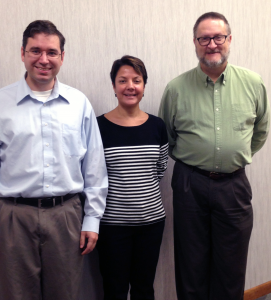 In executing this IDIQ contract, UES will support AFRL's RXA - Materials and Manufacturing Directorate, Functional Materials Division, Nanoelectronic Materials Branch in opto-electronic and agile RF electronic Materials and Processes research. The NEMO effort targets development of nanoscale materials and processing methodologies and circuitry designs that are vital to creating advanced electronic materials and devices for future Air Force systems. Nanoscale components promise significant reduction in the size, weight, and power reinforcements of future AF electronics.
Rob Hull, Program Manager on this contract, adds: "This award highlights the significant growth in the need for subject matter expertise associated with nanoelectronics in defense. We continue to be a major contributor in this area." Dean Brown, Principal Investigator, looks to the future. "Advances made in the program are expected to lead to improved nanomaterials, devices which can improve AF capabilities in secure communication, power generation, sensing, and control applications."
Of the recognition, Dr. Nina Joshi, CEO, said "This is an exciting win for UES. It leverages the considerable experience we have in materials development and integration technologies. We could also see unique opportunities for UES to leverage its expertise in transition and spin-in, as these technologies mature."
About UES Inc:
Founded in 1973, UES, Inc. is an innovative science and technology company that provides its government and industry customers with superior research and development expertise and world-class support. We take great pride in developing products and services from our technologies for commercialization and transition.
Please contact us at

info@ues.com

, Ph: (US) 937 426 6900, Fax (US) 937 429 5413.

UES Inc., 4401 Dayton Xenia Rd., Dayton, OH 45432-1894;

www.www.ues.com