UES Wins 2018 FLEXI Award with GE Global Research, Teams
We are pleased and honored to announce that a UES- and GE Global Research led team won a 2018 FLEXI R&D Achievements Award. The team developed a cost-effective paper-based biofluid patch that collects sweat for human hydration index monitoring. The result is a fully integrated wearable sensor system for continuous human performance monitoring.
---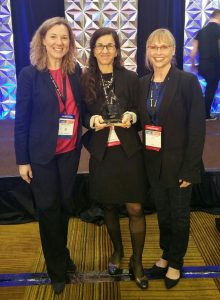 FLEXI Awards are presented annually by FlexTech to recognize significant contributions to the development of Flexible Hybrid Electronics. The FLEXI nominations are reviewed and judged by an independent committee of industry and academic experts. Award criteria included research approach, originality and commercial potential for expanding the bounds of flexible or printed electronics.
Dr. Melanie Tomczak, Director of Biological and Nanoscale Technologies at UES, enthusiastically accepted the FLEXI R&D Achievements Award on behalf of the team. "Our work with GE Global Research has been a close, and mutually beneficial effort since 2014," she added. "We gratefully acknowledge our collaborators and sponsors - NBMC, Air Force Research Laboratory (AFRL), Dublin City University, along with the GE-led team."
The team consists of UES, AFRL, Dublin City University, GE Global Research, University of Massachusetts - Amherst, University of Connecticut, University of Arizona, and American Semiconductor. The collaborators bring a range of expertise from clinical knowledge in human performance monitoring, additive manufacturing, electronics, and biological materials, all necessary to make these wearable electronic sensors work.
Of the recognition, Dr. Nina Joshi, CEO, said "UES has been involved with FlexTech since 2013, as a founding member of the Nano Bio Manufacturing Consortium (NBMC). It is gratifying to see the tenacious research that is required in this area be recognized. It's especially exciting to win this FLEXI R&D Achievements Award in UES' 45th anniversary year. We also see opportunities for UES to leverage its unique expertise in transition and spin-in, as these technologies mature."
---
Keep in touch — Click here to contact us, and find us on Facebook, Twitter, LinkedIn, and Instagram!