UES Wins SBIR Phase II Contract on High Temperature, High Performance Wire Insulation
It's National Small Business Week and UES is excited to be celebrating small business wins! We are pleased and honored to announce that a UES-led team, with UDRI and Astro Inc. collaborators, has been awarded a Small Business Innovation Research (SBIR) Phase II contract for developing high temperature wire insulation. Funded by the US Navy, this effort aims to develop a high performance wire construction for use in a flexible harness for engine applications that is able to withstand the severe environment of an engine bay of an H60 helicopter.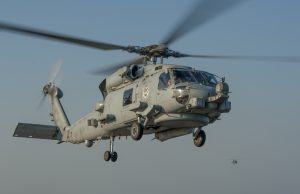 The Small Business Innovation Research (SBIR) program is a highly competitive program that encourages US-based small businesses to engage in Federal Research and Development that has the potential for commercialization. UES won this award by demonstrating the technology's feasibility in a Phase I effort, and aims to mature this in Phase II.
In Phase I, the UES-led team successfully demonstrated a lab-scale flexible high temperature wire coating, which passed all specified testing. The prototype they developed differentiated itself against current materials in a needle abrasion test. The UES coated wire survived 10 to 50 times more cycles than uncoated wires after exposure to 425°C for 50 hours. In Phase II, the team will scale up the wire production process and increase the margin of safety through validation testing at 450°C.
This proposed work could allow for the use of high-temperature, flexible harnesses in current and future military and commercial engine applications.
Questions? Contact us here. Connect with us on Facebook, Twitter, LinkedIn, and Google+!
Contact:
Paul Hauwiller
Manager – UES, Inc.