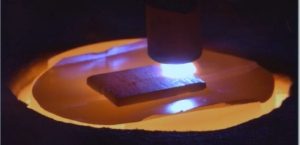 We are pleased and honored to announce that a UES, Inc. and Missouri S&T team has been awarded a two-year Small Business Innovation Research (SBIR) Phase II contract for Joining of Ceramic Composites for Nuclear Applications. Funded by the Department of Energy, this effort aims to enable easier construction of complex structures, used in nuclear and other applications, by deploying welding technologies for the joining of silicon carbide based ceramics and ceramic matrix composites.
The Small Business Innovation Research (SBIR) program is a highly competitive program that encourages US-based small businesses to engage in Federal Research and Development that has the potential for commercialization. UES has won this award through demonstrating technology feasibility in a Phase I effort, and aims to mature this in Phase II.
Experts from UES and Missouri University of Science and Technology developed welding parameters for the repeatable fusion joining of SiC-ZrB2-ZrC ceramics, achieved impressive mechanical properties, and fabricated complex ceramic component via fusion joining, which you can read about in this publication. The proposed work could have significant impacts in the energy and aerospace sectors that utilize ceramic matrix composites.
Questions? Contact us here. Connect with us on Facebook, Twitter, LinkedIn, and Google+!
Contact:
Paul Hauwiller
Manager – UES, Inc.
phauwiller@ues.com