UES to Join Eqlipse Technologies as Next Chapter in 50-Year Journey
UES to join DC-Area based Arlington Capital Partners' Eqlipse Technologies platform as a founding member, adding our proven advanced research and development capabilities to Eqlipse's strong portfolio to accelerate mission impacts.
DAYTON, OH: UES Inc., a Dayton area science and technology institution for 50 years, today announced that they plan to join with Arlington Capital Partners' Eqlipse Technologies (Eqlipse) as a founding member. The new platform will provide innovative products and high-end engineering solutions to critical partners within the Department of Defense (DoD) and Intelligence Community (IC). UES will unite their mature research and development (R&D) infrastructure to Eqlipse's industry-leading full-spectrum cyber and signals intelligence (SIGINT) engineering, intelligence operations and identity management capabilities, to provide end-to-end mission-oriented solutions to key national security customers.

UES will continue to do excellent work for our customers as the Advanced R&D lead in this platform and our employees will continue to perform in their current positions. "This partnership will allow us to continue to serve our R&D services customers in the same manner as we have in the past, while providing substantial investment into transitioning technologies. It also gives us new tools to identify gaps in our current technical areas that can be used to develop new research ideas and allow us to expand into new markets", said Dr. Nina Joshi, who will continue to lead the Advanced R&D effort. "UES has been a Dayton area success story providing R&D services for Air Force Research Laboratory (AFRL) at Wright Patterson Air Force Base transitioning technologies and supporting the local community. I look forward to this next chapter of growth and success in our history" adds Dr. Krishan (Kris) Joshi, founder of UES, Inc.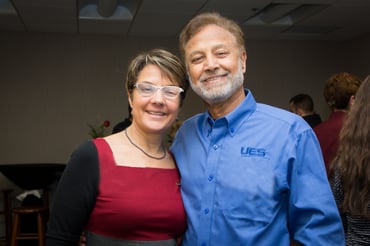 UES and the Advanced R&D Operation will continue to be headquartered in Dayton, and will continue its track record of growth and success. At launch, Eqlipse has more than 600 employees across three primary locations – Herndon VA, Annapolis Junction MD, and Dayton, OH – and more than $200 million in revenue. Our highly educated staff includes over a hundred Ph.D.s, with 45% of the company workforce holding advanced degrees.

Aligned with the company's cyber and SIGINT capabilities is a significant focus on scientific research and technology development. UES' deep research and development roots provide the foundation to create and successfully deliver products and solutions that solve the hardest challenges for customers around the areas of Materials and Processes, Aerospace Power & Propulsion Technologies, Biological & Nano-Technologies, Photonic & Electronic Technologies, Integrative Health & Performance Sciences and Applied Sciences. UES brings its flagship Robo-Met.3D® family of fully automated materials characterization systems, as well as ELMNT® stretchable conductive inks for wearable and flexible electronic applications; AURA™ high-concentration, high-yield gold nanoparticles in addition to many other emerging technologies.

Building on this distinguished R&D history, Eqlipse plans to mature the most promising research innovations into proprietary technologies with direct mission impact.


About UES
Founded with a vision to become a renowned scientific research and development organization, we're proud of how far we've come in realizing that vision by continuing to solve scientific challenges. For 50 years, we have been involved in scientific research and technology development, and created and successfully commercialized innovative products and services. UES offers rewarding career opportunities in science, technology, engineering, and support functions. For more information, visit www.ues.com.

About Eqlipse Technologies
Eqlipse Technologies provides products and high-end engineering services to ensure our customers in the Department of Defense and Intelligence Community succeed in their most critical missions. Our industry-leading capabilities in virtual operations, identity management, signals intelligence, full-spectrum cyber and online operations, align with our state-of-the-art scientific research and technology services, ensuring that our essential national security agencies operate at the speed of innovation as their missions evolve to new battlefields. When innovation and mission are in total alignment, you'll find Eqlipse. For more information, visit www.EqlipseTechnologies.com.

About Arlington Capital Partners
Arlington Capital Partners is a Washington, DC-based private equity firm that has managed approximately $7 billion in capital commitments. Arlington is focused on middle market investment opportunities in growth industries including government services and technology, aerospace & defense, healthcare, and business services and software. The firm's professionals and network have a unique combination of operating and private equity experience that enable Arlington to be a value-added investor. Arlington invests in companies in partnership with high quality management teams that are motivated to establish and/or advance their company's position as leading competitors in their field. For more information: www.arlingtoncap.com