UES'S IBIS™ Photoconductive Semiconductor Switch Wins through to the Finals in the 2015 R&D 100 Awards
---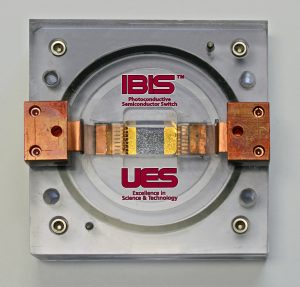 24 July 2015
UES Inc., a Dayton-based Science and Technology firm, announced that our IBISTM Photoconductive Semiconductor Switch (PCSS) has been selected by an independent judging panel and the editors of R&D Magazine as a finalist for a 2015 R&D 100 Award in the IT/Electrical category. An R&D 100 Award recognizes the 100 most technologically significant products introduced in the past year. Advanced pulsed power switching technologies such as IBIS PCSS enable future nuclear weapon effects (NWE) experimentation capabilities and concepts for the active interrogation of special nuclear materials (SNM). Dr. Rabi Bhattacharya, Principal Investigator, shared that "The unique, patented UES solutions create compact switches capable of handling ultrahigh voltages (over 75,000 V) and current densities in less than a billionth of a second, with ultralow jitter."
UES achieved this honor by:
Successfully proposing to and winning consecutive Small Business Innovative Research (SBIR) and Rapid Innovation Fund (RIF) awards from the Defense Threat Reduction Agency (DTRA).
Converting the technology developed in the SBIR process to an electromagnetic pulse generator for nuclear pulse simulation, in collaboration with L3 Inc.
"I'm grateful for the consistent collaborations and support from Hoa Nguyen of DTRA, and Doug Weidenheimer at L3", adds Dr. Bhattacharya. Of the recognition, Dr. Nina Joshi, CEO, said "The R&D 100 Awards are truly the Oscars of Innovation. This recognition highlight UES' core strengths of developing and incubating an innovative technology, and working well with key collaborators to bring it to reality. We welcome more such collaborations. We look forward to the finals in November 2015."
About UES Inc:
Founded in 1973, UES, Inc. is an innovative science and technology company that provides its government and industry customers with superior research and development expertise and world-class support. We take great pride in developing products and services from our technologies for commercialization and transition.
Please contact us at

info@ues.com

, Ph: (US) 937 426 6900, Fax (US) 937 429 5413.

UES Inc., 4401 Dayton Xenia Rd., Dayton, OH 45432-1894;

www.www.ues.com