USAF Space and Missile Center Taps UES for Rapid Innovation Fund
---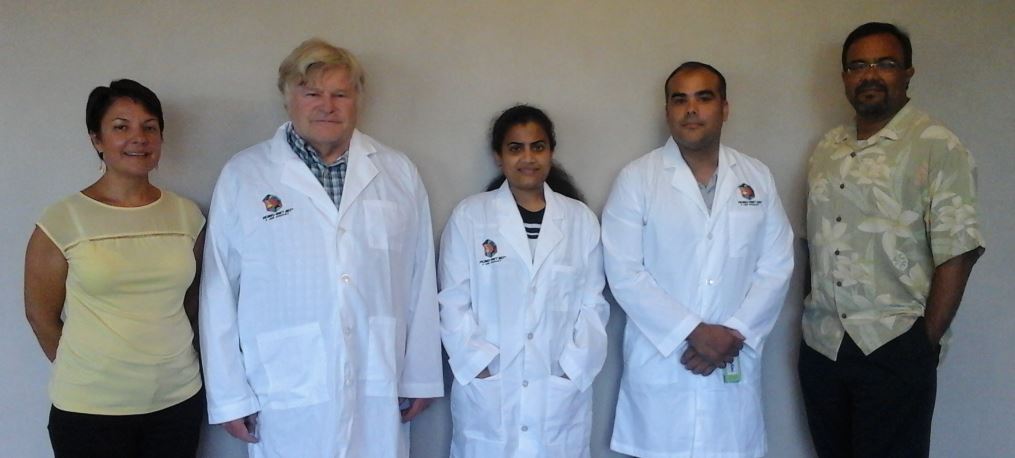 UES Additive Manufacturing Team – (From Left, Dr. Nina Joshi, CEO, Dr. John Porter, Principal Scientist, Dr. Satya Ganti, Materials Scientist (WSRI Contractor), Mike Velez, Metallographer, Dr. Veeraraghavan Sundar, Manager, Emerging Products)
The US Air Force (Space and Missile Center, El Segundo CA) selected UES for a $2.9 million award, to initiate Additive Manufacturing Technology Development. Additive manufacturing sometimes known as 3D-printing, is a technique that builds an object from a digital design, by adding thin layers of material one by one. It is currently being introduced to manufacture many complex parts, from dental crowns and bridges to aerospace jet components.
Dr. John Porter, Principal Scientist, Additive Manufacturing at UES, added that he was proud of the USAF's recognition of UES' core competencies as a firm grounded in science and technology research. "I'm especially happy about the review panel's comments about our approach being well conceived, scientifically and technically sound", he said. "We have an interdisciplinary team- CalRAM and Aerojet Rocketdyne in California, and Faraday Technology Inc. and the University of Cincinnati closer to Dayton. We're confident that this talented team will add to our effort of making Additive Manufacturing a more useful tool to the Space and Missile Center, and to our Warfighters." UES achieved this award by successfully proposing to and winning consecutive Small Business Innovative Research (SBIR) awards from the USAF in the Additive Manufacturing area, and developing technical depth.
The firm also plans to make this a strategic initiative, building on prior expertise in physics-based process modeling as well as its Robo-Met.3D® metallurgical analysis products. "Additive Manufacturing is an exciting and emerging technology that is changing the way we view manufacturing", said Dr. Nina Joshi, President and CEO. "This award recognizes UES' core strengths of identifying customer needs, and proposing innovative solutions to meet these needs. We also build very effective teams from within and outside UES to tackle these problems in a multidisciplinary manner."
About UES Inc:
Founded in 1973, UES, Inc. is an innovative science and technology company that provides its government and industry customers with superior research and development expertise and world-class support. We take great pride in developing products and services from our technologies for commercialization and transition.
Please contact us at

info@ues.com

, Ph: (US) 937 426 6900, Fax (US) 937 429 5413.

UES Inc., 4401 Dayton Xenia Rd., Dayton, OH 45432-1894;

www.www.ues.com