Photonic and Electronic Technologies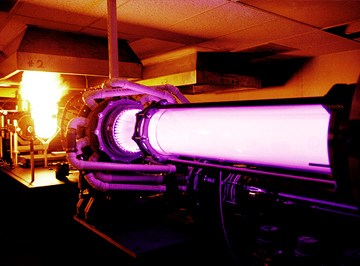 It's always exciting to get in on the ground floor of an opportunity. UES has been working in photonics and electronics research and development for over 30 years and has recently had the opportunity to move into electro-optic modulators, multiferroics, liquid metals, nanoelectronics, plasmonics, and metamaterials. The UES team also has a strong history of laser-materials interaction testing and survivability development that helps protect nonlinear materials, sensors, personnel, and structures, from Earth to space.
In the coming years UES will continue to build a strong foundation of fundamental, cutting edge research that can support the next generation of applications. UES will also explore radio frequency (RF) photonics for analog links and plasmonic-enhanced focal plane arrays for mid-wave and long-wave infrared radiation. These technologies could solve problems in radar, electronic warfare and communications applications and create smarter sensors. UES will work toward developing products for both Department of Defense and commercial applications in these areas of expertise.
At UES employees have the opportunity to conduct both basic and applied research. They work with leading scientists in a very collaborative, instrumentation-rich environment. They are supported by a corporate environment that is friendly and helpful and strives to help our scientists reach their goals.
UES has capabilities in laser materials interactions, flexible nano-electronics material development, metamaterials, systems survivability, and high temperature materials performance.
LHMEL provides high temperature materials characterization performance data to AF, DoD, NASA and commercial industry customers. Learn more about LHMEL, an AFRL facility managed by UES here.
Other Capabilities
Explore our other capabilities by clicking on them below. Use the arrows on either side to see more capabilities.