Laser / Materials Interaction Testing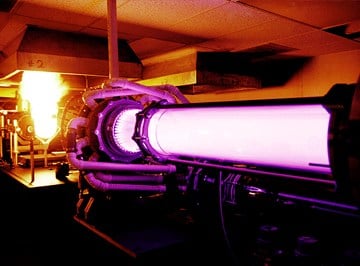 For over 35 years, the Laser Hardened Materials Evaluation Laboratory (LHMEL) has provided the aerospace community with a comprehensive source for high temperature characterization of current and emerging materials using a variety of infrared laser sources and environmental simulation capabilities.
Operated by UES, Inc., and managed by AFRL's Materials and Manufacturing Directorate, LHMEL provides high performance data to the United State's Air Force, the Department of Defense, NASA, and commercial industry customers.
This nationally recognized and distinctive research and development laboratory specializes in laser/materials interaction testing, including thermal simulation testing, and features lasers ranging in power from 1-kW to 100-kW.
"LHMEL testing has been critical to the success of our flight test program."

Ladd Henneman, Lockheed-Martin