Robo-Met Recognized for Providing Ground Truth Data in NASA SBIR Award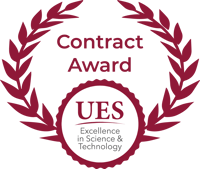 We're excited to announce that we won a new NASA SBIR 2020 award! This project is titled "Probability of Detection and Validation for Computed Tomography Processes for Additive Manufacturing (20-RD-231)." For this project, our Robo-Met team will collaborate with Penn State University's Applied Research Laboratory (ARL). We will study non-destructive testing techniques in the additive manufacturing (AM) processes for component quality control and post-build inspection.
---
Read also: UES Wins Two New Phase I SBIR Awards
---
Additive manufacturing (AM) offers exciting opportunities. Researchers need to test AM builds, however, for quality control and post-build inspection. They have typically used X-ray computed tomography (CT) for non-destructive evaluation (NDE). Researchers are increasingly seeing the limitations of NDE methods like CT, though. They recognize the need to validate the capability of these methods.
Automated, metallography-based serial sectioning offers a reliable method to establish ground truth data. We've already seen this method effectively validate NDE of composite materials. BAM, Iowa State University, and University of Dayton used Robo-Met in their study "Defect recognition in CFRP components using various NDT methods within a smart manufacturing process." Fraunhofer-IKTS, Omar Al-Mukhtar University, Beuth University of Applied Sciences, AMIC GmbH, Technische Universitaet Chemnitz, Berliner Nanotest und Design GmbH, and our Robo-Met team at UES, Inc. all joined those three in another publication titled "Volume imaging NDE and serial sectioning of carbon fiber composites."

Our work with ARL applied this technology to characterize additive manufacturing builds. Robo-Met revealed flaw populations and microstructural variations of AM components that CT missed. We can use this data to validate and improve the reliability of NDE methods.

UES proposed this SBIR project to establish comparison methods and workflows for validating CT. This could potentially expand to other NDE data as well. We'll develop probability of detection (POD) curves with ground truth from serial sectioning. "The knowledge gained from these efforts will inform CT scan strategies for improved flaw detection in AM components, evaluate flaw detectability in CT using serial sectioning as a ground truth comparison, and quantify the risk of the flaws absent from the CT data set," said Dr. Veeraraghavan Sundar, UES Technical Lead for Robo-Met. "We are very pleased to be a part of this important research and contribute our recent learnings with PSU in this area."
---
Read also: 2020 Research Using Robo-Met's Materials Analysis
---
Questions? Contact us here. Connect with us on Facebook, Twitter, LinkedIn, and Instagram.