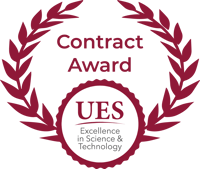 We're excited to start the year with several new contract wins! The topics range from AI analysis to advanced materials applications. We're proud of our scientists' breadth and depth of expertise, and know we couldn't do this without them.
---
Read also: A Look Back at 2020
---
UES won a contract to research composite materials with the US AFRL as a part of their PICASSO program. PICASSO stands for Physics-Based and In-Situ Composite Analysis and Simulation Solutions. It targets United States Air Force (USAF) needs in next generation composite materials. We'll take an interdisciplinary approach. Artificial Intelligence and Machine Learning (AI/ML) will play a key role in our approach to solving challenges in characterizing, modeling, and analyzing composites. Composite materials are very attractive to the USAF. Their lightweight properties and ability to withstand extreme operating conditions enhance aircraft performance while reducing fuel consumption.

UES researchers also won an Air Force Weapons Pitch Day Phase I SBIR – our second pitch day win (read about our first here!). For this project, we'll support the development of advanced solid rocket motors. We'll use our proprietary Ultra High Temperature Ceramic (UHTC) materials. This will provide a systems level solution to enabling extended reach and responsiveness. A successful Phase II will culminate in a EM-76 Solid Rocket Motor Test Firing elevating the technology readiness level for nozzle throat applications to 6.

The third new project we're starting this year is our Army SBIR contract win. We'll collaborate with Penn State University's Applied Research Laboratory (ARL) and in consultation with GE Aviation develop better advanced capabilities for ceramic matrix composites (CMCs). We'll demonstrate the feasibility of using a unique processing technique called Field Assisted Sintering Technology (FAST) combining compaction to near theoretical density (low porosity) with short processing cycles. This process may also be able to apply essential environmental barrier coatings achieving superior water vapor resistance. CMCs offer significant weight advantages and operate at much higher temperatures than comparable metallic components. Eventually, we could use this technology to increase the efficiency of commercial and military turbine engines.

We're grateful for our incredible team who will advance these technologies. They're why UES continues to deliver excellence in science and technology for our customers. We're looking forward to another great year of solving scientific challenges!
---
Read also: Robo-Met Recognized for Providing Ground Truth Data in NASA SBIR Award
---